Falling for Sicily - Highlights of Before The Wedding
September 12, 2017
As soon as I landed in Palermo, I knew I was gone.
I managed to fall hard and fast for Sicily during the 30-minute bus ride from Palermo International Airport to Palermo Centrale Station, which might be a personal record. The mountains by the ocean, the familiar buzz (my graduate school adviser was Italian, and the lab was basically little Italy), the contradictions and consistently inconsistent insanity pushed all my buttons for obsessive, frustrating infatuation and ignited my incessant urge to explore.
Palermo is a bit of a gritty city, not quite as stately as Rome nor modern and brisk as Barcelona. Palermo lacks pretension, and as overused as the word authentic is, it fits here. I am originally from Hong Kong, which is as dirty as it is glorious, and something about Palermo reflected this binary divide and unexpected juxtaposition. Amidst the colors, scents, and sounds, I felt at home there.
On my second day in Palermo, I met up with my friend A., who was also attending D.'s wedding. Originally from Pisa, he currently lives in Sicily. He is quite a close friend to D., fluent in English and luckily a very tranquil person who tolerated my terrible Italian, crippling social anxiety, and inability to make small talk even in English, and frequently translated for me. He is excellent company, and we had a blast making our way through Palermo, Trabia, Termini Imerese and Agrigento.
That day, we had for lunch something that A. said was very typical of the region, a pasta dish called busiate alla norma. Busiate is the particular pasta shape, which is a round, twisted sort of item that suggests it might be handmade. Alla norma just refers to the fact that it is, apparently, "normal" for the region. It consisted of tomatoes, eggplant, ricotta salata and a few basil leaves. The mild pasta was, of course, cooked perfectly al dente, complemented but not overwhelmed by the flavorful sauce.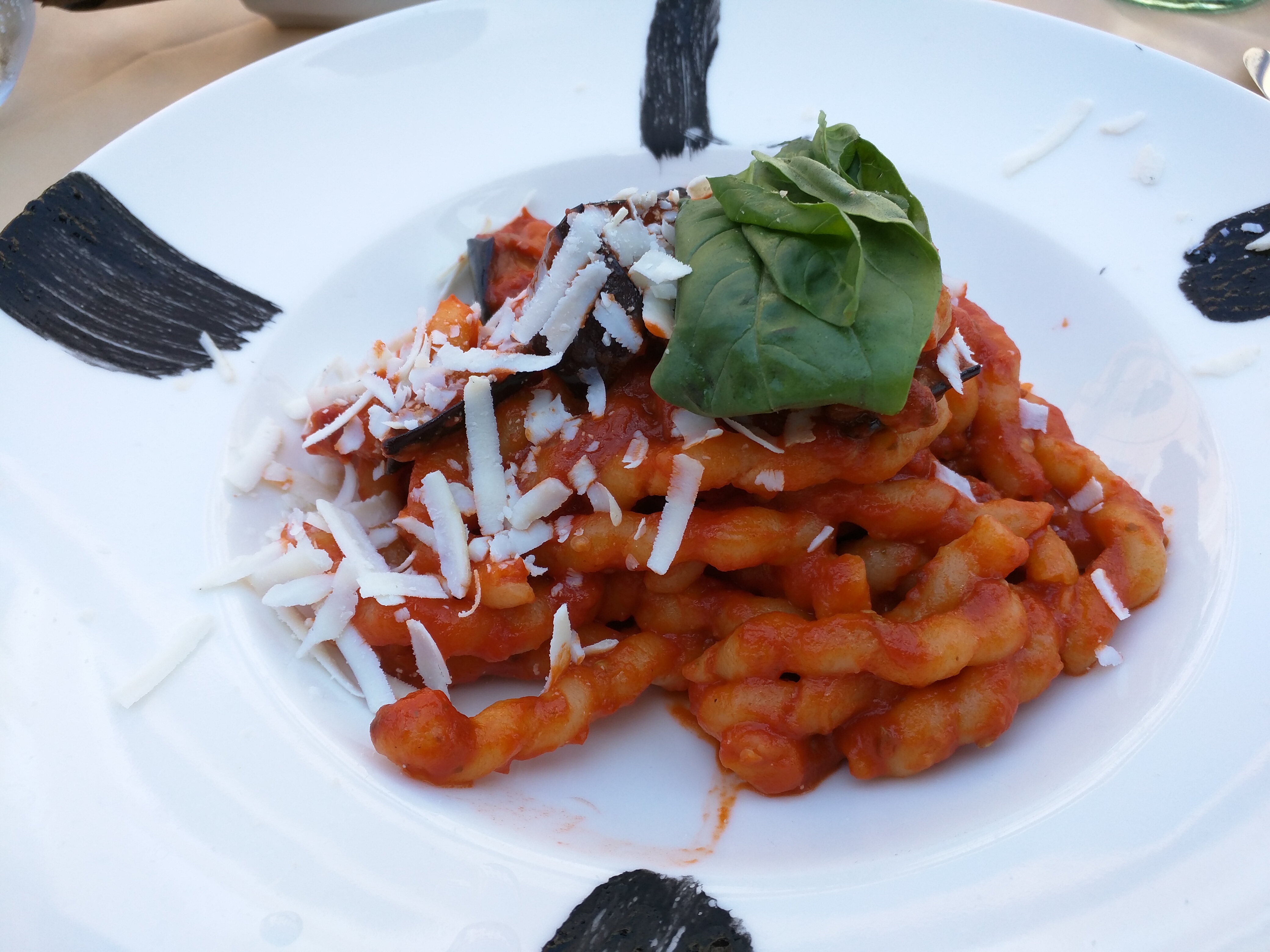 I was a bit overwhelmed, having previously obsessed over the making of fresh pasta, and now I was actually in Italy, eating pasta made in Italy. I geeked out massively over this, probably alarming A. It was a delicate balancing act, getting food in my mouth with a modicum of decorum, holding a semi-coherent conversation with A. (on my end; he was perfectly eloquent), properly appreciating the flavors and textures, trying hard to contain the excitement building inside my head, and doing my best not to splatter everywhere in my practically trademarked clumsiness.
Later that night, we had the honor of having dinner with D. It was the night before he was to be married, and he took us to La Lanterna in Termini Imerese, his hometown. I have to say, while everything was so, so good, it was the mussels that blew my mind. Soft, flavorful and basically everything that I like about clams, minus the sand, I think I missed a lot of the conversation in futile attempt to fully process the experience.
Another plate held something that D. called seafood "salad," but was really more of a collection of tasty sea critters garnished with a few cheery lettuce leaves. Off to the side, a wooden board presented five different bruschetta. In addition, there was pizza with prosciutto, spaghetti with more seafood, and one more item that escapes my recollection. I attempted to take photos, but my phone battery was drained, conversation was flying thick and fast in English and Italian, and the three of us split nearly an entire bottle of some light and delicious wine that complemented every dish.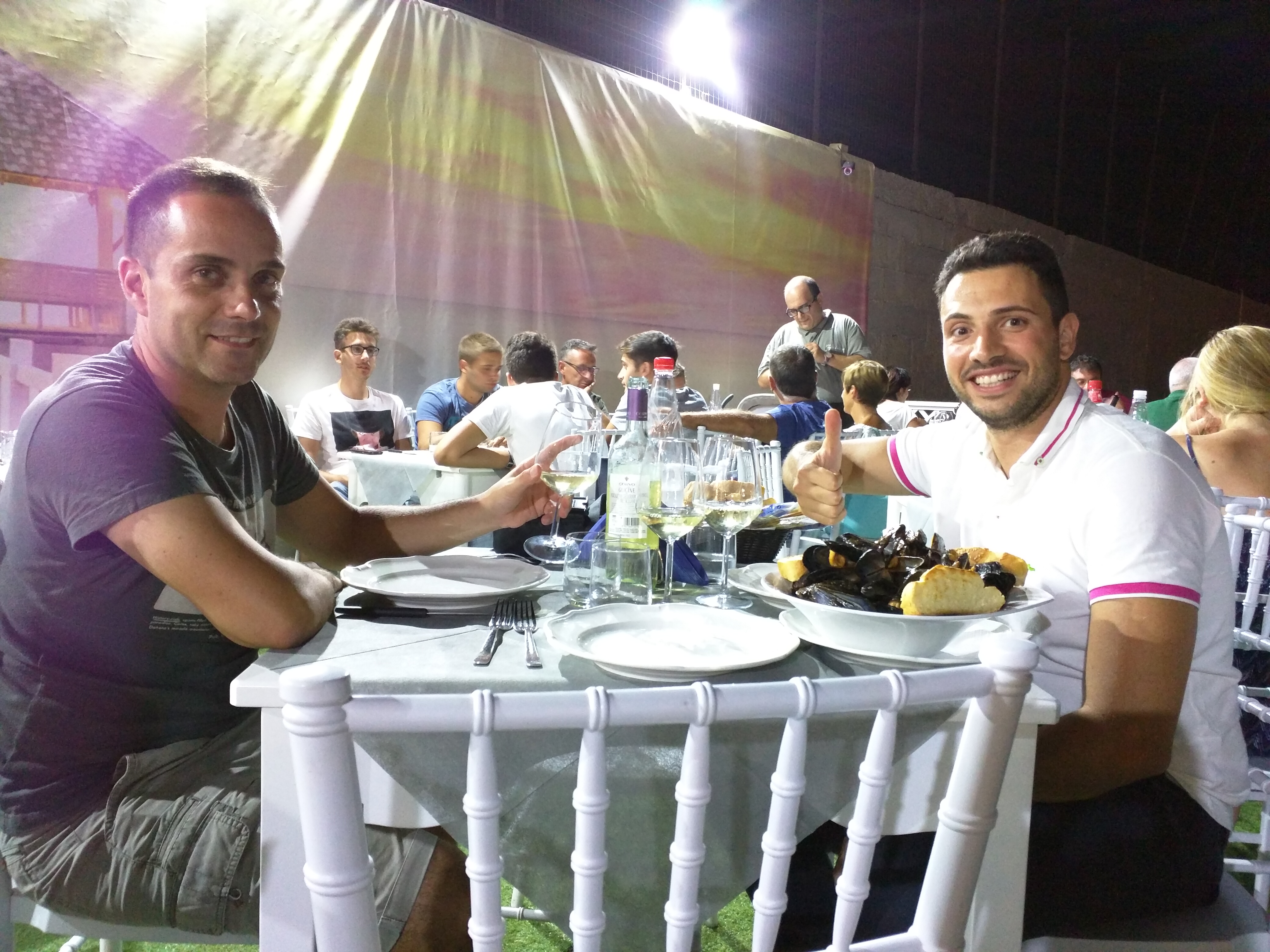 Then a fast and terrifying ride up a steep, winding mountain road, complete with crazy Sicilian making eye contract with me, grabbing my wrist, and tapping my knee, all while driving a manual car...! Well, this is, after all, the person who once loudly smacked the seat as I backed the car around in a tight spot, just to mess with me. Thinking back, I wonder if A. was in on the game as he relaxed in the back with a hint of a smile while D. showed off his piloting skills.
Once we had finally reached our destination, there was gelato! There's not a lot that I can say about gelato in Italy that hasn't been said before. It is almost a given that the flavors are clean and intense, the ice cream itself smooth and fresh and perfect. The real treat was the joy of finally seeing D. again after two years, so comfortable in his hometown, about to be married, and spending time with A., whom I had met before, but never really got to know properly. More than the wine or the flavors, the thing that really made my head spin was the rush of pure happiness that only comes from the kind of friendship that transcends years and continents.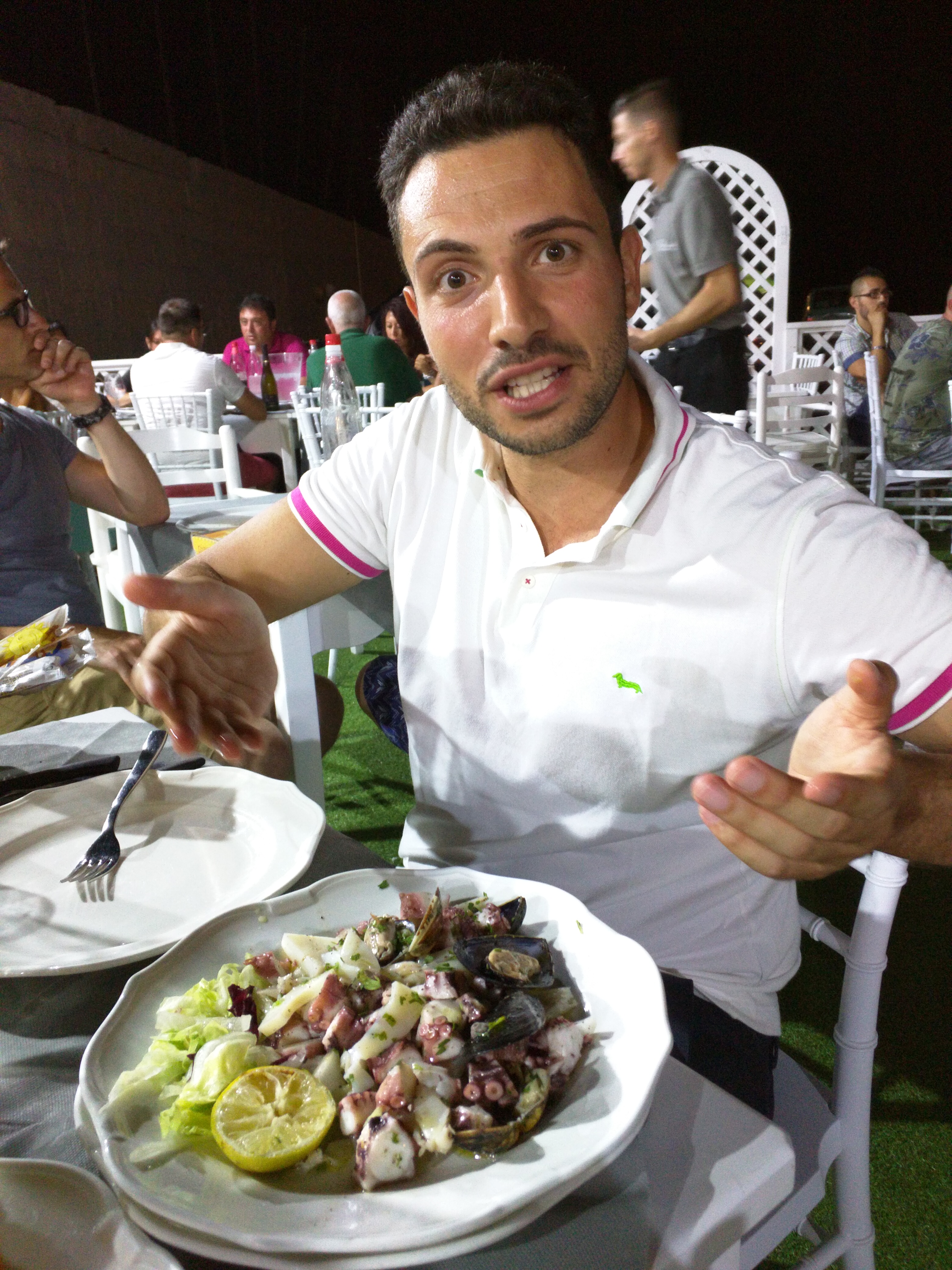 Earlier Post - Rosemary Lime Panna Cotta
More Recent Post - Website Announcement