Barcelona - Museu de la Xocolata
August 20, 2017
I'm home, and I'm safe, but I cannot say the same for over a hundred others.
On August 17, 2017, I came home from Barcelona, Spain.
When I touched down in LAX, my phone buzzed with concern from friends, asking if I was okay. It turns out that while I was in the air, not 24 hours after I and hundreds of other tourists had wandered Las Ramblas with nothing more on the mind than where to have dinner, terrorists had struck.
The night before, on Wednesday night, August 16, a house exploded in Alcanar. On Thursday, August 17, a van swerved down the pedestrian area of Las Ramblas with the aim of killing and hurting innocent strangers and hours later, a second vehicular attack took place in Cambrils.
All I can say is that Barcelona is amazing. It is strong, with people already defying terror by returning to Las Ramblas. Barcelona mourns, but is also rallying around peace, tolerance and revival. World leaders and residents are supporting each other. After a moment of silence on Friday, August 18, declarations of No tinc por/No tenim por and No tengo miedo/No tenemos miedo were heard loud and clear, chanting "I am not afraid/We are not afraid" in Catalan (the language of the region of Catalonia, of which Barcelona is the capital*) and Spanish, respectively.
As a tourist, there isn't much that I can do. By chance, I left the beautiful city just an hour before the attacks, graced by luck. All I have to contribute is standing in solidarity with those who love Barcelona, whether lifelong residents or visitors for mere days, and those who condemn terrorism, as all decent beings should.
One of the few things that I can do is support the voices that say that we are not afraid. Whether resident or traveler, I am not afraid to live. The terrorists aim to strike fear, preventing education, travel and the opening of minds and hearts to those who are different. To me, to travel is to explore someplace new, to speak a new language, to make new friends, learn about other cultures and bit by bit, expunge the very ignorance that leads to the fear of the unknown. It is this fear of the unknown that controls and oppresses. Terrorists kill and hurt to impose their closed-minded intolerance on others. They are the antithesis of the thoughtful traveler, who leaves their comfort zone to meet those who are different.
With this goal in mind, I would like to turn from tragedy and focus instead on a reason to visit Barcelona. On Wednesday morning, I had the opportunity to take a Chocolate Workshop at the Museum of Chocolate, or Museu de la Xocolata, in Catalan. For someone who thrives on unusual flavor combinations, particularly in the realm of sweets, this was the perfect workshop. For 20 euro, a small group and I were led by a skilled pastry chef in the fine arts of mixing a ganache, molding a chocolate bar, forming our own chocolate lollipops, putting together chocolate rocks, and finally, filling bombons (or truffles, I think, in American English) with the ganache.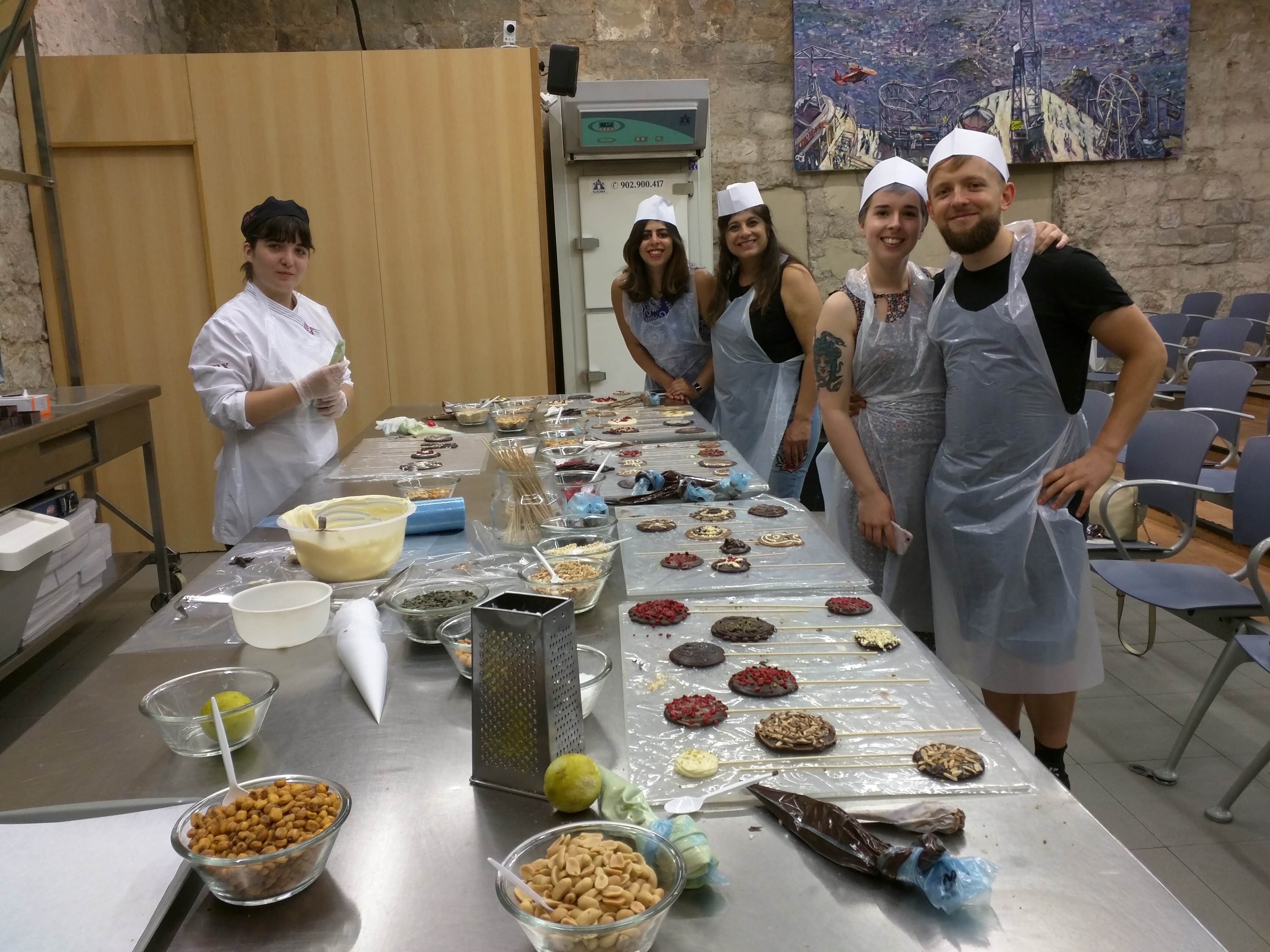 We worked for two hours under the tutelage of our kind instructor, with pastry bags of dark, milk and white chocolate at our disposal. The ingredients, laid out neatly in clear glass bowls save for two limes with a grater for zest, tempted. They included flaky salt, poppy seeds, candied bits of dried strawberry, fresh raspberry, slivered almonds, peanut halves, cinnamon, vanilla sugar, and even whole toasted corn kernels. In the end, my favorite combination was probably poppy seeds, lime zest and candied strawberry in a dark chocolate base, with a touch of salt. We were allowed to pour one bar and as many lollipops and rocks as we wanted, so I took home quite a haul, having gone a bit overboard messing with the various flavor combinations. We made lollipops by piping chocolate bases on top of skewers, then adding chocolate or ingredient decorations. We could swirl the chocolate before it cooled to make designs, or just pile on the toppings! Rocks were even simpler; we just mixed a small bowl full of toppings, then added melted chocolate to bind it all together. The ganache was then removed from the refrigerator, and each of us was given six chocolate shells to fill.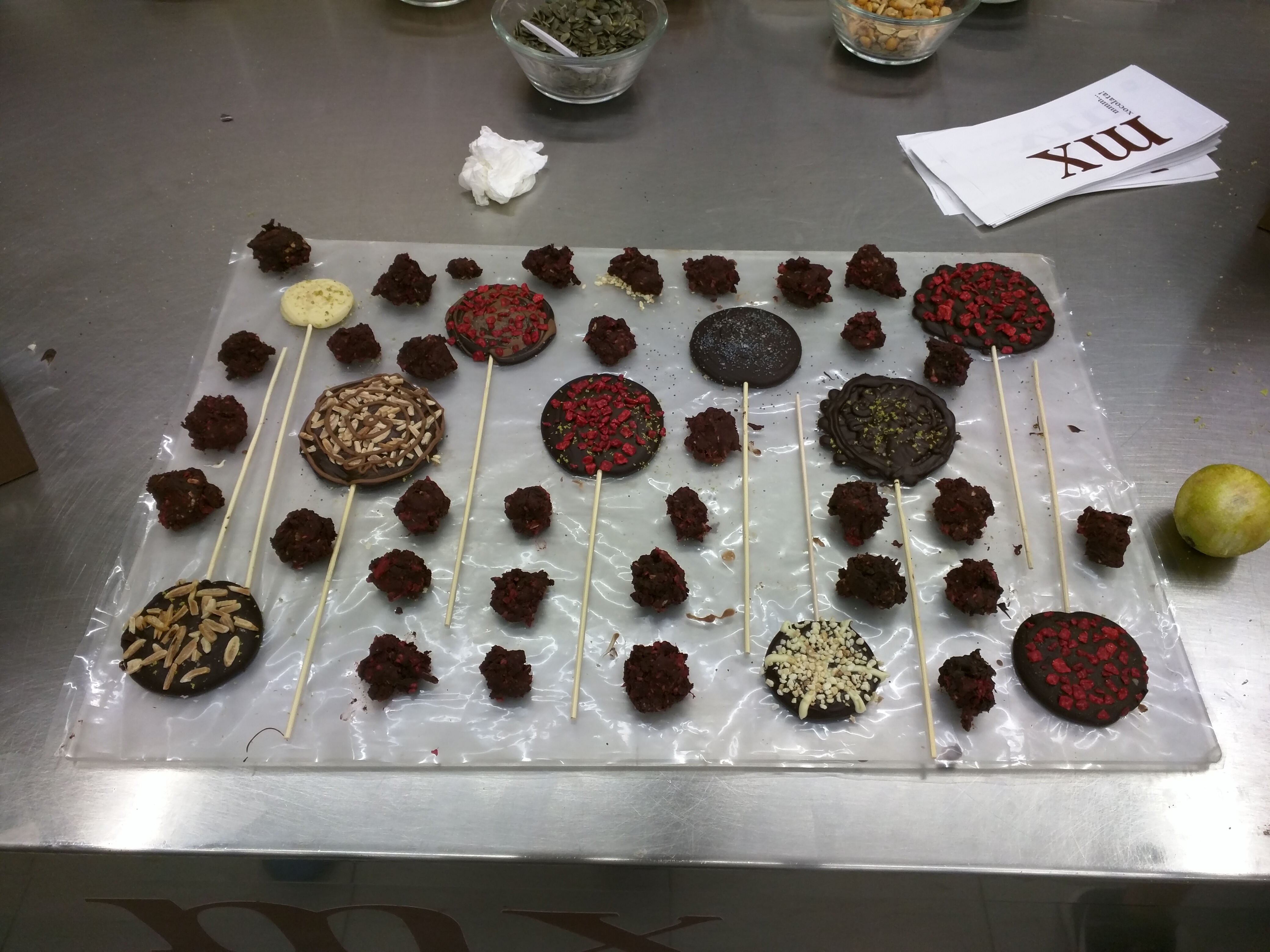 In the end, once all of the chocolate was refrigerated and cooled, we got to pack each item gently in a paper bag. Our instructor then took us on a brief tour of the chocolate sculptures featured in an annual contest. Notable were the oldest sculpture, a 31-year-old art piece named Pietat (Piety), and a copy of the Sagrada Familia with one of the towers missing! It turned out that a pope had been presented with the beautiful chocolate sculpture, and promptly ate one of the towers. Well, I guess no one denies the pope his chocolate...?
Afterward, I spent some time in the cafe, ordering a butter croissant and a cold chocolate. I intended to order a cup of hot chocolate, but with the temperature edging past 30°C (85°F) and humidity hovering around 74%, that idea suddenly didn't seem so.... hot. The croissant was exactly as I hoped, crisp edges, tender center, plenty of layers, and the flavor of pure butter. The cold chocolate, though, was the star of breakfast. Churned constantly like a slushy in the States, it was rich, milky and smooth, with incredibly refreshing little chips of ice throughout. I savored the slightly bittersweet glass.
With only a total of four days in Barcelona on my trip, I consider myself very, very lucky to have been able to attend this workshop, offered about once a month according to the website calendar, on my one full day in Barna. The rest of the day and my entire trip (story to be continued) was memorable for many reasons, but the Chocolating Workshop at Museu de la Xocolata was definitely a highlight. I loved every minute, and am so thankful that I was able to attend. Barcelona is beautiful and strong, and as a community, we will persevere. No tinc por.
* The political situation regarding Catalonia and Madrid is delicate, and I am by no means qualified in the least to express an opinion on this.
More Recent Post - Rosemary Lime Panna Cotta